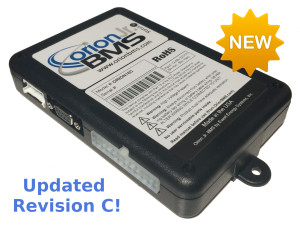 What's new in Revision C?
Additional multi-purpose output (3 total; 2 previously)
Additional thermistor input (3 total; 2 previously)
Improved transient protection for harsh environments
Lower power consumption
Increased protection from accidental shorting or incorrect current sensor installation
More powerful processor allowing for new software features:
Support for 5 unique and fully programmable CANBUS messages (previously 3)
New event logging records certain events such as outputs turning on & off
BMS utility can now connect to the BMS via CANBUS or RS-232
Improved usage statistics including temperature, C rate, and state of charge histograms
Improved diagnostic information
Many additional new software features will be introduced in future firm-ware updates. Future firmware updates will only apply to hardware revision C and newer due to processing power limitations in revisions A & B.